For 2018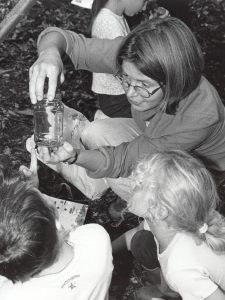 Wilderness Wood is open every day of the year and there are many special events as shown below.  
For most events, booking is essential. The details of each event tell you if you need to book.  For events where there is no need to book, just come to the wood during the advertised time.
If you would like to come to a bookable event, please first call to check availability as places are strictly limited.
Make your booking over the phone or call in to the wood. Please pay at the time of booking – either by credit card over the phone, by credit card, cash or cheque in person, or by posting a cheque made payable to "Wilderness Wood" to Wilderness Wood, Hadlow Down, Near Uckfield, East Sussex TN22 4HJ.    Places are not reserved until payment is received. 
Cancellations: no refund given within two weeks of the event.  A £5 admin fee will be charged if cancelled earlier.
Prices for all events include admission to the wood.
Fairy Gardens
Find the fairy place and listen to a story about the woodland elves. Make a garden in the woods and a wand to take home.
Tues 29, Wed 30 May, Mon 30 Jul, Thurs 9, Tues 14 Aug  each day 10.30-11.30am & 2-3pm    Please book
Thurs 30 Aug 10.30-11.30am
Child (3-6 – adult must accompany) £5.15   Adult £3.25
Bug Hunt
Search in the wood for all sorts of creepy-crawlies. Investigate your favourite bug and make a bug book to take home.
Wed 30 May, Fri 10 Aug     10.30-12 noon
Child (6-11) £5.15 Adult £3.25                 Please book
Castaway
Join an expedition deep into the wood; have fun building shelters and cooking dampers over a camp fire. Bring sausages and a picnic lunch, wear old clothes. Adults welcome to accompany and help.
Thurs 31 May, Tues 2, Wed 15, Thur 23, Wed 29 Aug  11.30 – 2.30pm                                     Please book
Child (6-11) £9.40   Adult £3.25
Survive in the wild
What are the four things you need to survive? Find them in the woods! Hands-on activities to test your survival skills.
Fri 1 Jun, Fri 3, Wed 22 Aug    10am-12 noon
Child (8-13)  £6.80  Adult £3.25             Please book
Teddy Bears' picnic
An exploration for bears and their owners, with simple games and a woodland picnic. Bring a carrier bag and a picnic tea.                                        Please book
Fri 1 Jun, Fri 27 Jul, Tues 7, Tues 21, 28 Aug
2.45-4.15pm
£5.15 per bear (to be accompanies by child of 3-6)
Overnight woodland bushcraft
For the more keen bushcrafters! This weekend activity includes sleeping out in the shelter you have created. With Graeme and Chad.
For further details ring 07971 160772.
Sat/Sun 23-24 June, 21-22 Jul, 18-19 Aug
10am Sat – 4pm Sun (or Sat only – £59)    Please book
Adults £120    Children (14-15)  £80
Crafty Stuff
Family workshop. Be creative with clay, textiles and natural materials, making woodland animals and scenes, with artist Lyn Merrick.
Wed 1, Tues 21 Aug 10am-12.30pm     Please book
Child (6-12) £7.50     Adult £7.50
Explore the undergrowth
A day of exploration, identification and art, with Lyn Merrick. Hunting for creatures, identifying them using keys and computer software and finding out what is special about them. Dissecting owl pellets, making casts of animal prints and creating graphs, paintings and models of your discoveries to take home.
Thurs 16 Aug  10.30am-3.30pm           Please book
Child (6-15) (under7s accompanied) £16    Adult £16
Treasure Trail
Hunt around the wood for answers to our fantasy quiz – win a £10 voucher and small prizes for all. Also a special trail for those with little legs and less puff. Extra £1.50 per family on normal prices.
Sun 26 Aug   BH Mon 27 Aug             11am-4pm
Moths by moonlight
Meet the night creatures of the wood; includes "sugaring" tree trunks and identifying visitors to moth light traps. Bring a torch. Includes a hot drink in the barn. With Simon Curson.
Fri 31 Aug  8.00-9.45pm                    Please book
Adults £6.80   Concs. £5.50  Child (6-15) £4.20
Fungus hunts with Anne Yarrow. Details announced
 by July – book early to avoid disappointment.
Seed gathering season.
Walk in the woods and gather tree seeds to identify,
 take home and plant.
Sun 23 Sept – Tues 23 Oct
Usual admission prices; small charge for seed
identification and planting guide.
Sort out your woodland.
Learn how best to prune, brash, fell and coppice
to get the most from your wood, with chartered
forester Chris Yarrow
Sat 6 Oct 10am-1pm                             Please book
Adults £17
Weave and cleave.
Learn the basics of willow-weaving and
chestnut cleaving. Patient and thorough
instruction from Andrew and Dom,
and you make two plant supports to take
home to your garden.
Saturday 13 October 10am – 4.30pm
Adult £55  Concs. £50 (incl. materials)   Please book
Chestnut celebration
Gather and learn about sweet chestnuts on a
special walk through the ancient coppice woodland.
Try roast chestnuts, chestnut cake and ice cream.
Oct 20-28      10am – 5pm
Castaway 
See summer entry for details
Tues 23 Oct 11.30am-2.30pm
Children (6-11) £9.40  Adults £3.25      Please book
Survive in the wild
See summer entry for details
Wed 24 Oct   10am-12 noon
Children (8-13)  £6.80  Adults £3.25     Please book
Hallowe'en creations
Come into the deep dark woods and make spooky
Hallowe'en decorations.
Thurs 25 and Fri 26 Oct    10.30-12noon & 2.30-4pm
Children (6-11) £5.50   Adults £3.25     Please book
Cut/dig your own Christmas tree
Reserve your tree from Nov 1 (NOT earlier)
Christmas trees
Ready cut/dug/potted trees available in the yard.
All sizes, several varieties
From Dec 1
Christmas creations
Make beautiful Christmas decorations from material
gathered in the woods.
Thurs 20 & Fri 21 Dec  10.30-12noon & 2.15-3.45pm
Children (6-11) £5.50   Adults £3.00        Please book